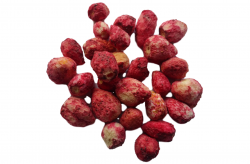 FREEZE-DRIED WILD STRAWBERRIES
Wild strawberries are not used as much as in the past. However they still benefit people suffering from diabetes, arthritis, high blood pressure, dysentery, gout, premature aging, high cholesterol,  liver damage, cancer risk, a weak immune system, high toxicity,  respiratory infections, indigestion, constipation and dehydration, and the like.
Wild strawberries combine the taste of sweetness and sourness in one place.
We recommend eating one handful or, more precisely, 17g of freeze dried wild strawberries every day to boost your body with vitamins.
FREEZE-DRIED WILD BLUEBERRIES
FREEZE-DRIED GOOSEBERRIES
FREEZE-DRIED RED CURRANTS
FREEZE-DRIED LINGONBERRIES
FREEZE-DRIED ELDERBERRIES
FREEZE-DRIED SEA BUCKTHORN
FREEZE-DRIED BLACK & RED CURRANTS
FREEZE-DRIED STRAWBERRY AND BANANA MIX