LOW GLYCEMIC INDEX SUGAR CUBES
DODO SUGAR FITNESS - cane sugar cubes with ANTIOXIDANTS
stimulates the immune system;
strengthens the skin's natural tone and firmness;
lowers bad cholesterol in the blood;
protects the liver and heart;
reduces the impact of aging processes;
may reduce the risk of some cancers…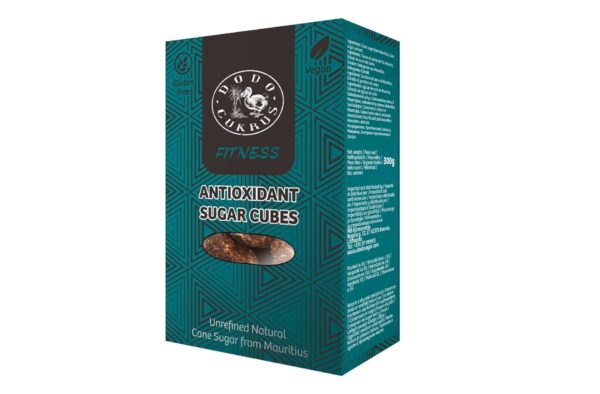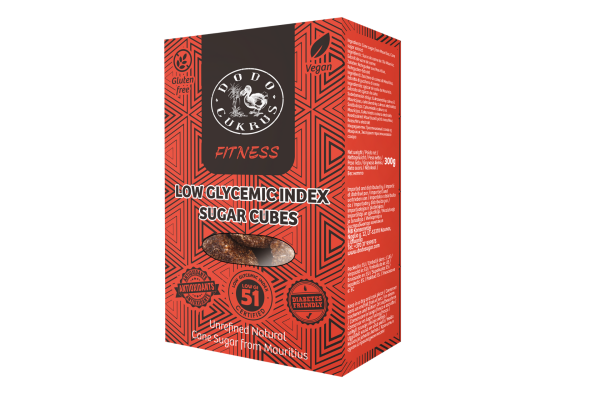 DODO SUGAR FITNESS - LOW GLYCEMIC INDEX sugar cubes
BENEFITS OF LOW GLYCEMIC INDEX SUGAR
sugar enters the bloodstream slowly;
helps control the amount of insulin;
this sugar contains antioxidants naturally derived from sugar cane;
excellent taste of natural cane sugar – no synthetic aftertaste;
improves the taste and aroma of drinks and dishes;
packed in 300 g boxes, the packaging is recyclable;
sugar cubes allow better control of sugar intake;
the product helps to stabilize blood sugar;
energy is released slowly;
with this sugar, patients with diabetes do not experience sudden rises or falls in their blood sugar, unlike with regular sugar.
TESTED AND APPROVED - SUITABLE FOR DIABETES
Oxford Brook University (England) – The level of glycemic index of our proposed sugar tested is 51;
this was confirmed by the Glycemic Index Fund of Australia;
Studied with diabetic volunteers and independent users;
consumption of this sugar releases sugar into the bloodstream slowly, which may help to prevent a hypoglycaemic condition;
our low glycemic index sugar is high in antioxidants. Adequate levels of antioxidants may be important in preventing type II diabetes.
Mauritius Heart Foundation
Diabetes Research Organization APSA International (Association Pour La Promotion De La Sante)
COMPARATIVE GLYCEMIC INDEX LEVELS
| | | |
| --- | --- | --- |
| LEVEL | EVALUATION OF THE GLYCEMIC INDEX | REASONS |
| HIGH GI | >70 | Rapid increase in blood sugars |
| AVERAGE GI | 56 – 69 | Moderate increase in blood sugar |
| LOW GI | <51 | Small increase in blood sugar |
More antioxidants than Blueberries
The laboratory tests were performed by two independent laboratories: Brunswick Laboratories (USA) and Inovalys Laboratories (France).
DODO SUGAR Fitness Antioxidant sugar has been found to have 4 times more antioxidants than blueberries, and DODO SUGAR Fitness Low GI sugar has 10 times more antioxidants than blueberries.
The ORAC value for blueberries is taken from a document that lists the antioxidant content of various foods, spices, herbs and fruits.
You can find the document on the Download PDF tab below.
ORAC vertės (Deguonies radikalų absorbcijos geba)
| | | |
| --- | --- | --- |
|   | | |
| Blueberries | 4669 | 1 |
| Dodo Sugar Fitness Antioxidant Sugar | 17937 | 4 |
| , Dodo Sugar "Fitness Low GI Sugar | 45483 | 10 |
ORAC vertės (Deguonies radikalų absorbcijos geba)